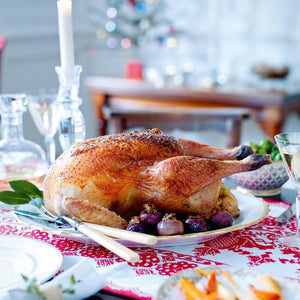 FULL Lancashire Turkey
Where are the turkeys from?
Farm-reared by J&A Garth in the heart of Lancashire on a farm similar to ours, we have sold these top-quality birds for over a decade. Jim rears a mixture of breeds including white, bronze and black (we aren't able to take breed-specific orders) and are brought to Windy Arbour fresh from dressing - nothing has been frozen. 
What size do I need?
The rule of thumb for 'full birds' is 1lb per serving (remember the bird carries weight you don't eat - so this doesn't mean there's 1lb of meat each!) Please remember... we try to match all orders to the requested size but turkeys are living things and growth cannot be slowed without compromising quality & welfare and so we will supply as close to the desired weight as possible. £6.75/lbs (£14.85/kg) is a good guide price in current market conditions.  
Whats the cooking advice?
At 170 degrees - 20 minutes per lbs in weight, plus 20 minutes extra at 180 degrees with the foil off, plus a touch of instinct!