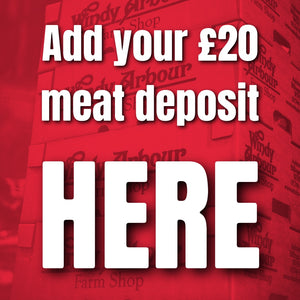 £20 DEPOSIT AND COLLECTION CHOICE
CHOOSE YOUR COLLECTION DAY FROM THE DROP DOWN OPTIONS!
ALL CHRISTMAS TURKEY & MEAT ORDERS must have this item on the order. This lets us know what day you would like to collect your order and acts as your £20 deposit.
IMPORTANT Info:
HOW MUCH WILL IT BE?
All meat items have a guide price listed in the description. Because your order will be prepared by our local family butcher by hand, your order will be individually priced per the weight of each pack. When you collect, all your items are added up then the deposit knocked off.

WHAT TIME CAN I COLLECT
You can collect any time between 9am and 7pm. (Xmas Eve collections are 7am-10am only). The shop itself will close at 5pm but no special ticket or Out-of-hours booking is required for collections between 5pm and 7pm. 
CAN I COLLECT A VEG BOX AT THE SAME TIME?
Veg boxes are OUT OF HOURS ONLY, so if you wish to collect both together, come between 5pm & 7pm.